Injuries and doubt turns full circle: Hill earns scholarship at UM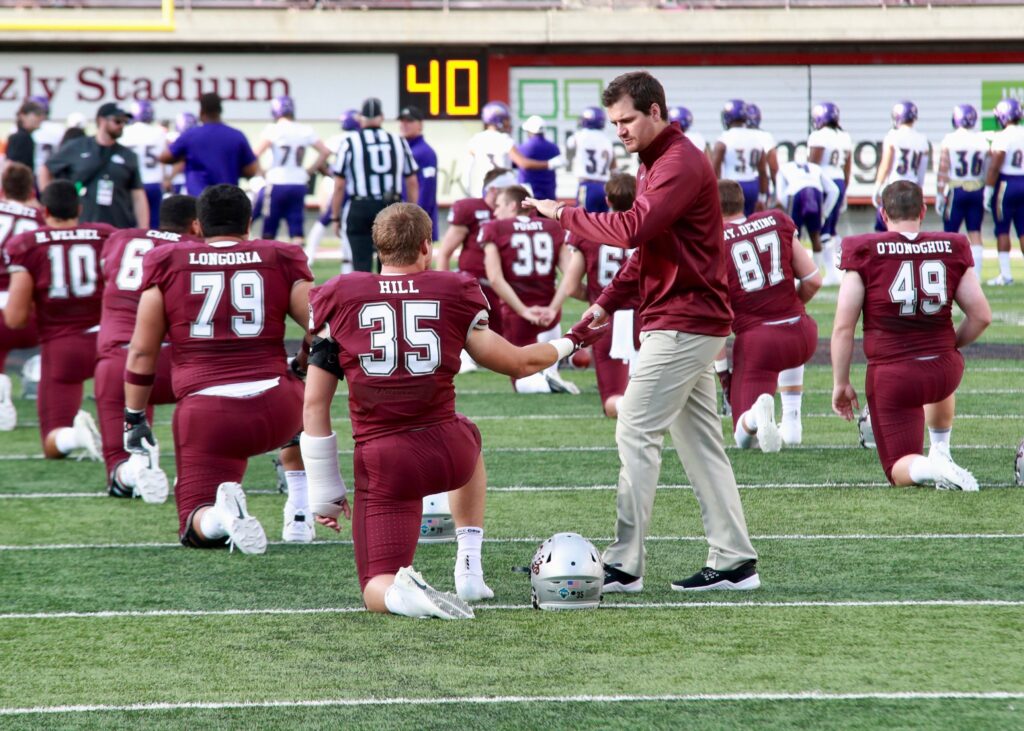 BY JACKSON WAGNER
There was a time when Braxton Hill didn't know if he would ever play football again. A torn labrum in high school sidelined him for much of his senior season, but he fought through pain to close out the season with his Copperhead teammates. There have been no shortages of obstacles thrown at him since leaving AHS for the Montana Grizzlies; a year away from the game to recover, a broken wrist in his first season, and now a global pandemic.
Through it all, Hill has persevered. In May, Montana Head Coach Bobby Hauck rewarded Hill with a full scholarship. Hill learned about the scholarship upon his return from a long break. The team didn't know what the future of their season held because of COVID-19, and the meeting with Hauck took him by surprise.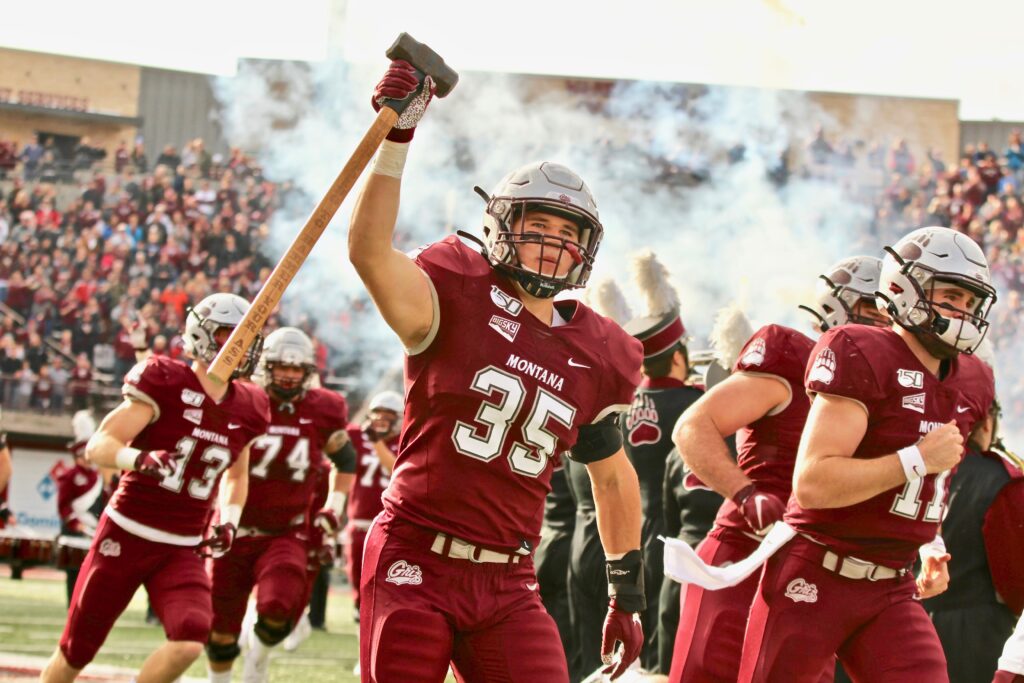 "We got back and (Coach Hauck) called me into his office and said he was putting me on scholarship. Going into his office, I thought he wanted to talk about fishing or something so he caught me by surprise for sure," Hill said with a laugh. "My heart sank and I was excited. I wanted to get out of there and tell my roommates and my family. They believed in me and helped me get to where I am today, so I was excited to tell them."
His family and roommates aren't the only people who believe in Hill's ability on the football field. Montana Head Coach Bobby Hauck is known for his special teams coaching, and after seeing what Hill could do with that unit during his freshman season he knew Hill could have a long-term impact on the program once he gets settled in.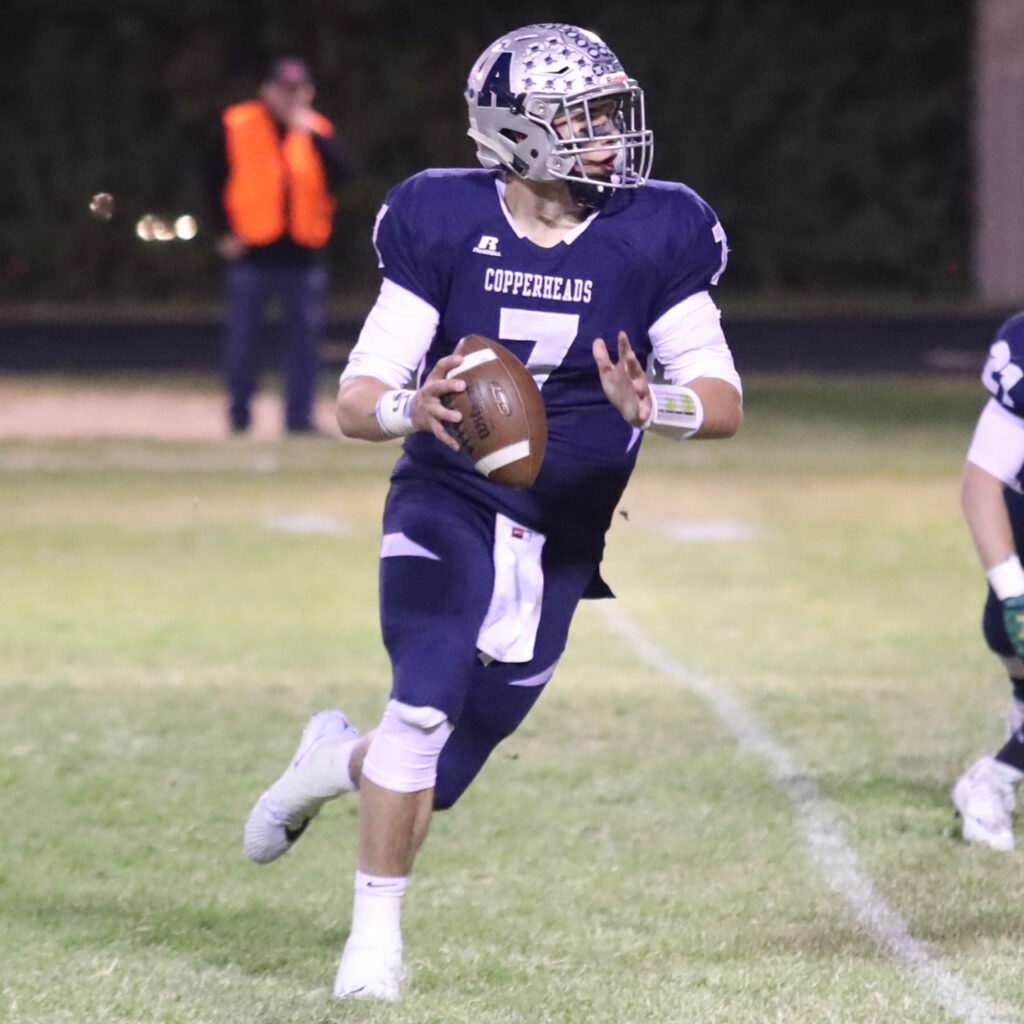 "Braxton is a guy with a lot of ability and great potential. He got good coaching in Anaconda, but we've had a lot of guys over the years that come out of the Class B ranks and it is a big adjustment to division one football. He's making that adjustment," Hauck said. "I really think the sky's the limit. It's hard to project how far a guy is going to go, but I really think he's got great ability and great potential."
Hill earned the recognition through a lot of hard work and determination to go along with plenty of skill. He said when he first arrived on campus, defensive coordinator and linebacker coach Kent Baer told him two things. If you're tough and if you play hard, you're going to get on the field. Hill kept these two things in mind, but the linebacker didn't need an education in toughness. He had firsthand experience.
"I think Braxton is the quintessential athlete that Bobby Hauck looks for: competitive, tough, a hard worker and a Montana boy who loves being a Griz," said Colter Nuanez, owner of Skyline Sports and ESPN Missoula radio personality who covers the Big Sky Conference. "It's one thing that is lost in college football: guys growing up wanting to play for the team they are playing for. It means more to Montana kids."
Hill fought through a torn labrum suffered during his senior year of high school. After he spent nearly two years away from football, Hill couldn't wait to get back on the field. Then, in preparations for a game against South Dakota, Hill broke his wrist. He met with team trainers, who said they would club him up and he could continue playing, to Hill's relief.
"I was excited, I would play with two clubs, whatever it takes as long as I can get out there and help my team," Hill said. He would go on to end his freshman season as a starter on kickoff and kick return, recording five tackles.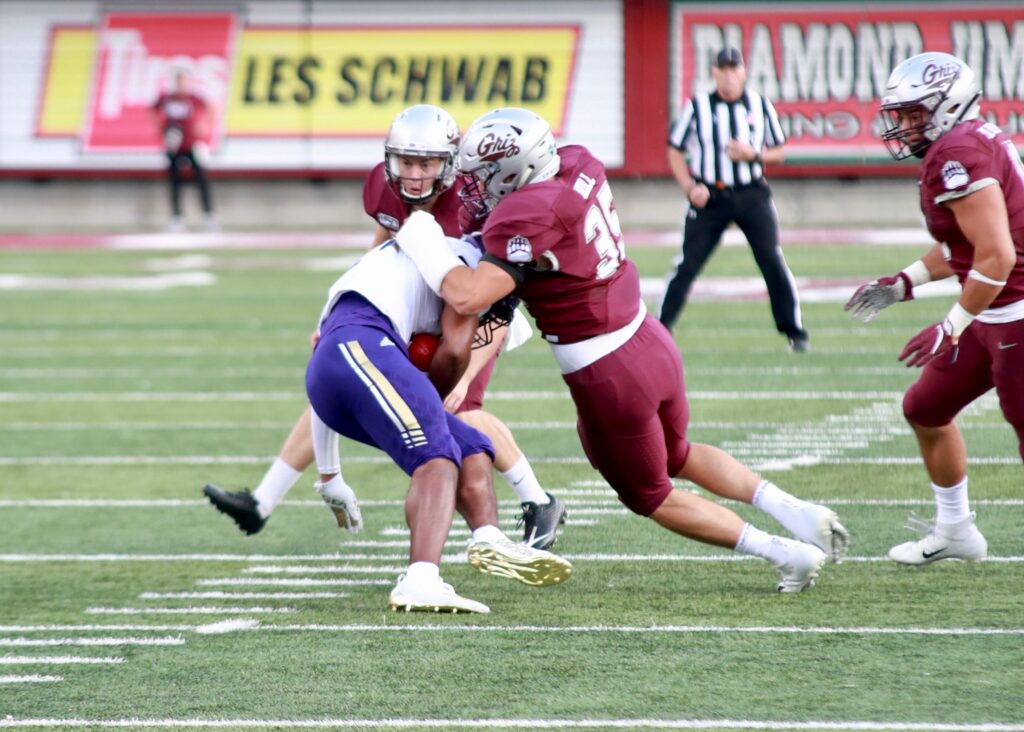 The injuries that he has battled through, and the attitude that Hill showed when in recovery, impressed Hauck.
"I think that one of the hardest things for players is to go through — getting injured is part of the deal, but to be able to be positive and persistent with the rehab part, whether it was his shoulder coming out of high school and having to delay his enrollment and those types of things, which was wildly productive for him in the long-term it wasn't much fun for him in the interim. He's shown great attitude and great persistence, and all of those things will pay dividends for him down the road."
The injury Hill suffered in high school may have even played a part in his decision to pursue football at the college level. A multi-sport star, Hill ended his basketball career as Anaconda's all-time leading scorer. Entering his senior season, Hill had options to continue his playing career in either sport.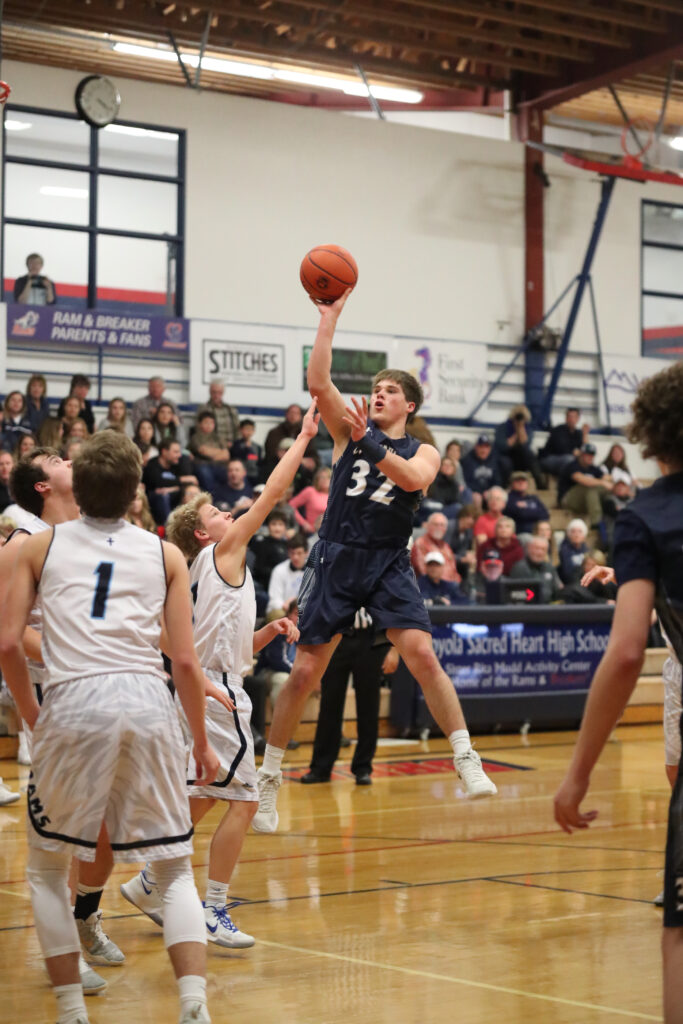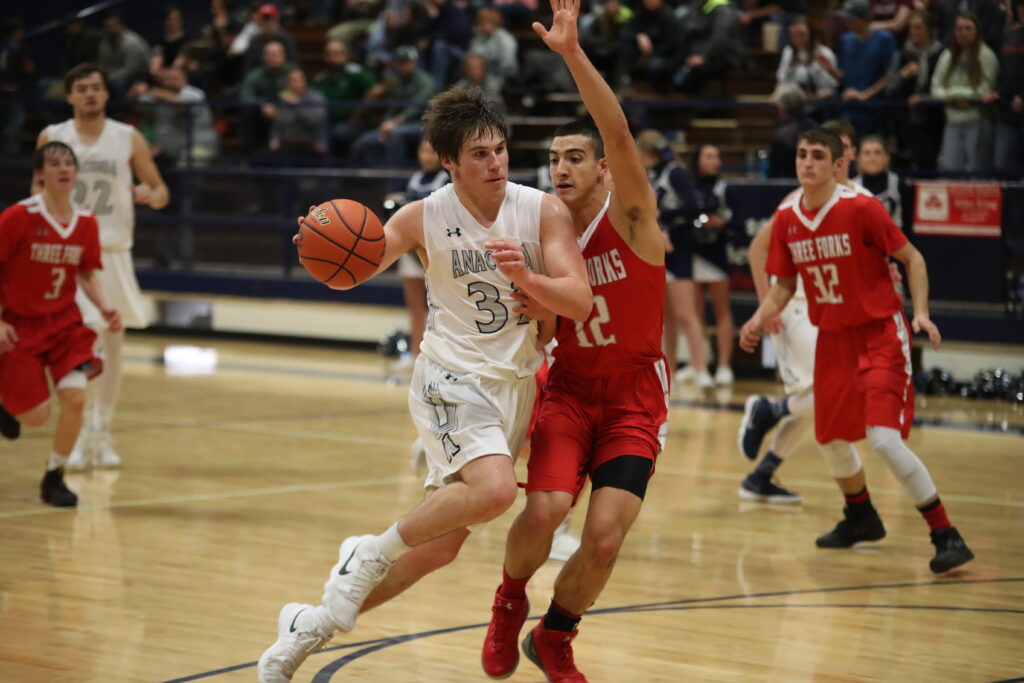 He said at the time he may have had more interest in basketball. Then, he tore his labrum in an injury that he thought would end his football career. When he found out he could return for the final games of the season, his mindset for the future changed.
"I think the tipping point for me is when I got hurt playing football my senior season. I thought to myself, 'Man, I'm never going to play football again.' I was devastated, I love football. Then I actually got to go back and play quarterback for my last few weeks of my senior year," Hill said. "Our last game we beat Thompson Falls and I was on the bus, and there was just no way I was going to let that be my last football game. I do love basketball too, but that was the point where I really knew I wanted to play football."
He joined the University of Montana, the same school where his sister played college hoops, as a preferred walk-on. He was coming off an injury, and adjusting to the speed of Division I football in his first year. Hauck said the philosophy at Montana when he's been head coach is to recruit Montana guys first, but it can take some time to adjust for guys who were likely the biggest, fastest and strongest in high school.
Hill had his chance to get comfortable on the field by playing a crucial role in Montana's special teams unit. His action on Saturday's gave Anaconda fans a hometown player on the Grizzlies for the first time since Karl Pitcher in 2007, and it was just a taste of what they will see over the next three years.
"It's a great way for guys to break in and get their feet wet," Hauck said of the special teams. "We hope that they all want more and want a bigger piece of the pie, and Braxton is no exception. It wasn't like he just made a tackle or two, I thought he was a major, major contributor to our team last year. His performance in the kicking game is one of the reasons that I think he has a lot of potential and a really bright future."
There is also a special connection with the University of Montana. As mentioned, Hill's older sister Torry played basketball for the Montana Lady Griz from 2010-2014, scoring over 1,000 career points and dishing out over 400 career assists. Fans in Missoula still remember the three-pointers and highlight passes from Torry. She also helped lead Montana to two Big Sky Championships and NCAA Tournament appearances. Now her younger brother has his chance to add to the family's legacy.
"I sort of feel speechless when I think about how special it is to have Braxton as a UM student-athlete," Torry Hill said. "Growing up we have always been very close and competitive with one another. Sports have been the foundation of our bond so having him as a Griz has made that even stronger. It has been so fun watching him work hard, overcome adversity, achieve success and develop life-long friendships, similarly to my experience. I am already very proud of him but now it's his turn to go win some Big Sky titles."
There are plenty of reasons to be hopeful for Hill's future as a Grizzly fan, or even just as an Anacondan rooting for their own. He made big strides as a freshman, and entering his sophomore season will be looking for a breakthrough into the defensive lineup.
He knows the history of the school. He drops names of Grizzly linebacker legends like Brock Coyle, Jordan Tripp and Josh Buss. He had a chance to work with All-American Dante Olson. Now, Hill will learn under Jace Lewis, the preseason Big Sky Defensive MVP. The position has yielded success for former Grizzlies, and Hauck knows how to take Montana high schoolers and turn them into stars at the University. If and when the season finally rolls around, Hill and his teammates will be ready.
"They work their butts off in the weight room and at practice and are always doing things to get better," Hill said of his teammates. "Jace is from Montana and he's Class B like me, I've looked up to him since the day I walked in so being in that linebacker room is special."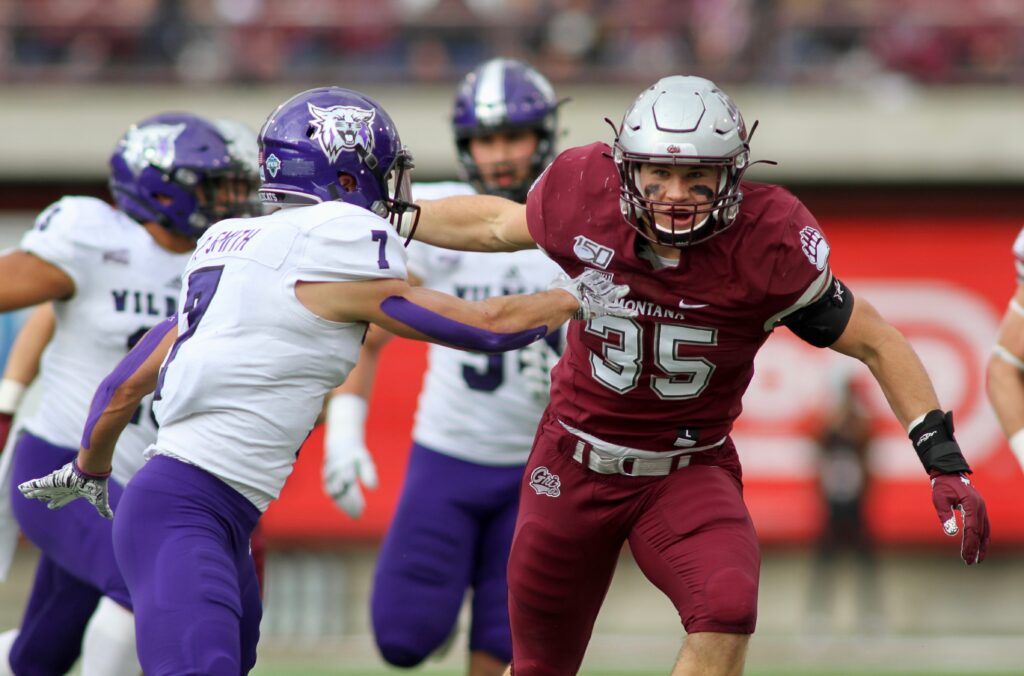 From unrelenting doubt, to gray shirt walk-on to a true freshman performer for the Griz, Hill has achieved more than many believed he could. But for those who watched him average 28 ppg on the hardwood with a torn labrum, seeing the look on his face putting the left shoulder back in so he could shoot or dribble while never taking himself out of a game, this is no surprise. Braxton is and always has been the real deal.
"Braxton is not worried about a starting spot," Nuanez said. "He just wants to help the Griz win. Hauck built a machine that went 47-6 against the rest of the Big Sky with a collection of kids just like Braxton. I'm not surprised whatsoever that he is thriving in Bobby's program or that Bobby loves him."
Jackson Wagner is a former Anaconda High School student-athlete and a graduate of University of Montana school of journalism. He has covered Grizzly athletics for the UM Sports Information Department and freelanced other content for Copperhead Country Media.
About Author