AHS girls take maiden voyage into first ever Montana Girls State Championships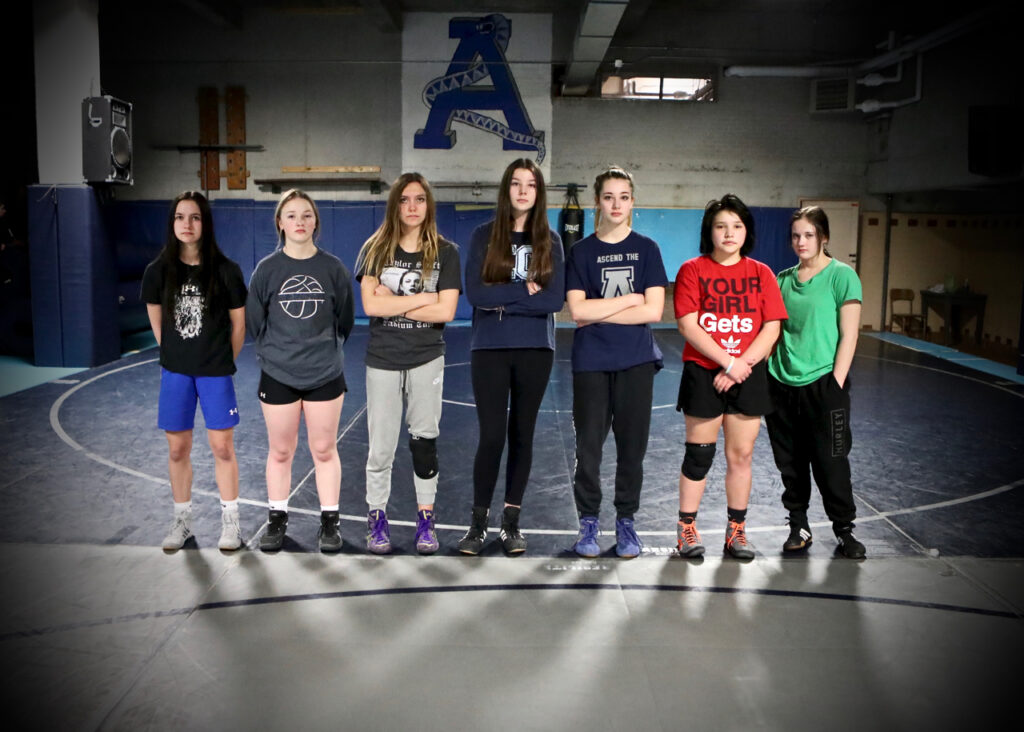 Starting on Friday, six of the seven members of Anaconda's first-ever all girls wrestling team will compete for a state championship in Billings at Lockwood High School during the inaugural Montana All Class Girls Wrestling Championships.
Anaconda High head coach Joe Casey has been a big supporter of this venture to give girls their own platform to perform.
"I'm pretty excited that Montana pulled the trigger on a girls' state tournament," Casey said. "I've seen a ton of growth this past decade and finally it's time to expand and give these girls their own opportunity to compete exclusively amongst themselves."
There have been a few hurdles to overcome, but overall Casey and his assistants have handled the additional bodies and time constraints. Dealing with the pandemic has been tough on every coach and high school program, but overall the team has been able to pull together to make it happen.
"The biggest hurdle is balancing out the practices and fundamentals of wrestling," he said. "But for the most part we trained the girls and guys together and kept the pace the same. It's a little harder for them to get mat time but a lot of that had to due with COVID, too."
Sisters Cali and Cora Pesanti, Madeline Scheett, Ryleigh Warner, Lilly Estep, Emillie Williams and Rylee Gilkey are the proud members of the first team in AHS history.
The Pesanti's, daughters of former Anaconda High wrestling coach Ryan Pesanti, are no strangers to the wrestling room, obviously. Pesanti, who resigned in 2008 to spend more time with his growing family, now gets the ultimate satisfaction of helping them in the sport he loves.
"I think it's crazy that I resigned because I had a two and three year old daughter, but here I am, living the dream," he said. "It's very special."
Working closely with Casey and assistant coach Jake West, Pesanti wholeheartedly trusts the direction, practice schedule and regimen given to the entire team.
"Coach Casey and West have instilled a lot of self confidence, mental toughness, work ethic and incredible conditioning in my girls," Pesanti added. "Everything that wrestling teaches will help them in their other sports and their lives."
Cali Pesanti, Gilkey and Warner even doubled their work load being members of the Copperhead basketball team as well.
As anyone who has put on a pair of wrestling shoes knows, the sport requires so much more of an athlete than other activities. Weight cutting and maintenance on top of keeping ones energy level on a limited diet is the biggest difference between other sports, but also having the individual nature where it's just one-on-one inside the circle when the whistle blows is the other.
It's common to have a larger numbers at the beginning of the year than at the end in wrestling, in fact athlete retention and getting the participants to buy into such a unique and physically demanding sport is one of the toughest parts of coaching it. Coach Casey couldn't be happier with the progress of his first-year program.
"This is only going to grow," he said. "Within these next couple years I believe teams will probably expand up to fifty percent. We have some talented your girls who have an opportunity to represent the Copperheads."
Unfortunately online brackets and seeding wasn't available for the girls at the time where this story was published. Check back later when those details are made available.
About Author